Like clockwork each week, NextPit has five hot app tips for you for both Android and iOS platforms. This week, we have a trio of mobile games, an AI image generator, and just in time for spring, an app that allows you to identify insects via the camera in your smartphone.
We have tested all five apps out for you, so you can be sure that there are no lemons here that only want your data or drive you to financial ruin with in-app purchases. Speaking of which, you can find our free app recommendations of the week, packed with tools and games for Android and iOS that would normally cost a pretty penny.
Without much further ado, here we go with our five recommended apps of the week for Android and iOS:
Dragon City Mobile (Android & iOS)
Do you still remember Game of Thrones? Okay, we don't want to talk about the finale, but we do miss the dragons immensely. Not the least of which is Thomas, who suggested the following game. Do you feel the same way as well? If so, we have a great recommendation for you. It's the app known as Dragon City Mobile. In Dragon City Mobile, you build your own city with a variety of dragons, each playing a specific role.
Your mission is to breed dragons and let them compete against other players in the Dragon City Arena. To be best prepared for the battles, you will need to train, feed, and improve/upgrade your dragons.
Price: Free / Ads: None / In-App Purchases: Yes / Account : Not required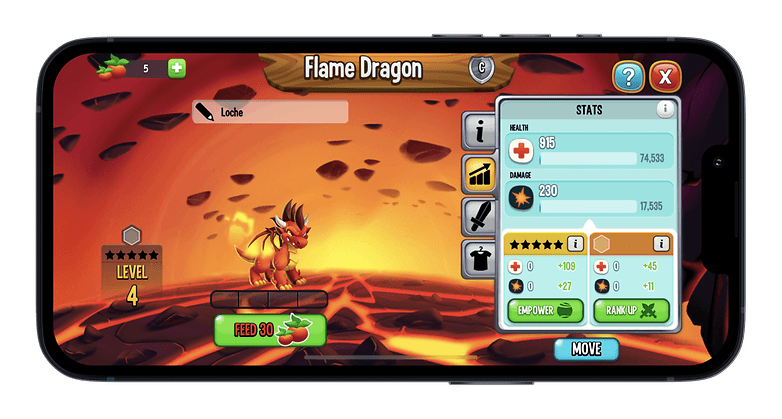 Dragon City Mobile is a great way to kill time with a simple control mechanism. Your task is to fulfill objectives that will provide you with important resources. In addition, you will also be rewarded on a daily basis with rewards for your efforts.
Besides that, you'll have the option to use in-app purchases to speed up your progress. Basically, the more you pay, the faster you progress. However, this is not a must, because with a little bit of patience and perseverance, you can achieve your goals without sinking in additional investment.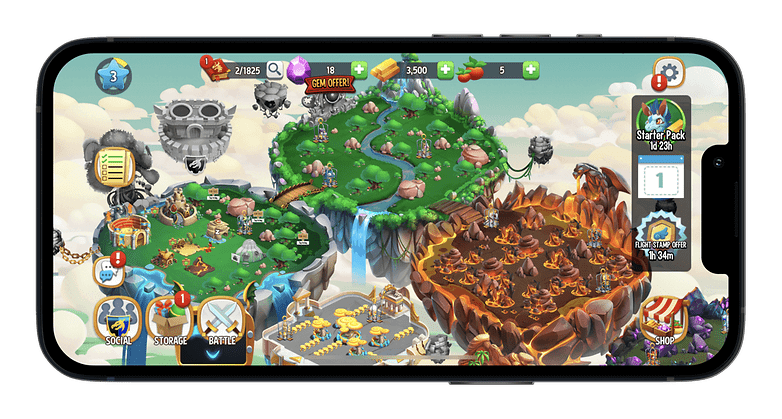 Imagine: AI Art Creator (Android & iOS).
Since Casi is currently fond of trying out AI, he decided to use an app that creates images using artificial intelligence today. The generated artwork looked fantastic at times with this app, but there is always a catch. First of all, what does the app do? It allows you to enter prompts, which are then used to generate images via AI. Sometimes, the result can look rather mediocre, but there are other times when it hits the ball out of the park.
If you prefer, you can also choose from a pool of images and modify them via AI. Alternatively, upload your own photos at have a field day with it. You can also generate prompts or choose certain styles. Heck, you can even upscale these images to a decent resolution and save them afterwards or share the results with your friends directly.
Price: Free / Ads: Hell, yeah! / In-App Purchases: Yes / Account : Not required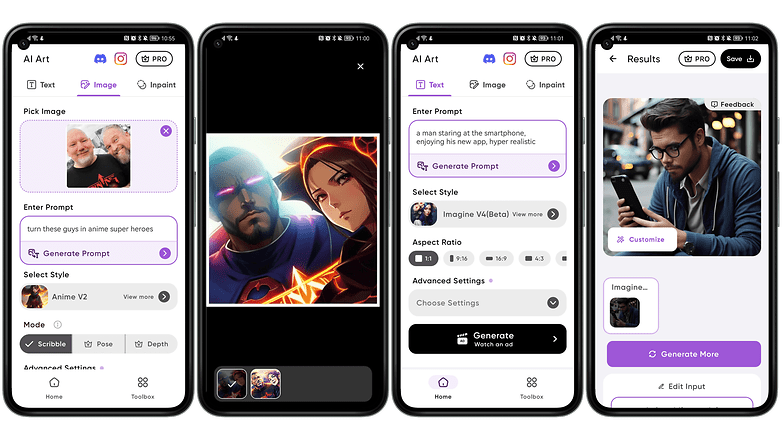 Let's get down to the bare essentials: if you use the app for free, you'll have to endure an indecent amount of advertising – including 30-second videos before each picture is generated and for subsequent edits. There's also a watermark that you can only remove with the paid version.
That would be okay for me if the prices were fair, but they are pretty steep in this case: there is an annual $44.99 asking price, with an equally outrageous $5.99 weekly subscription if you want to use it for a shorter period of time. Alternatively, you can pay a one-time fee of $109.99.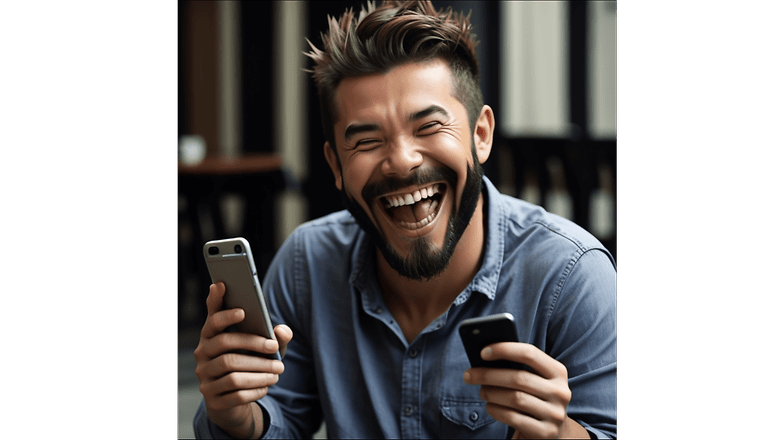 Titan Quest Standard Edition (Android & iOS)
Dustin picked an exciting game for you again this week. This time, Titan Quest is set to keep you entertained. Some of you might still know about this RPG from the past because it is a port of the popular PC game. Unfortunately, many fans are still waiting for the non-existent sequel today.
Price: $0.99 (discounted from $9.99) / Advertising: None / In-app purchases: Yes / Account: Optional for cloud storage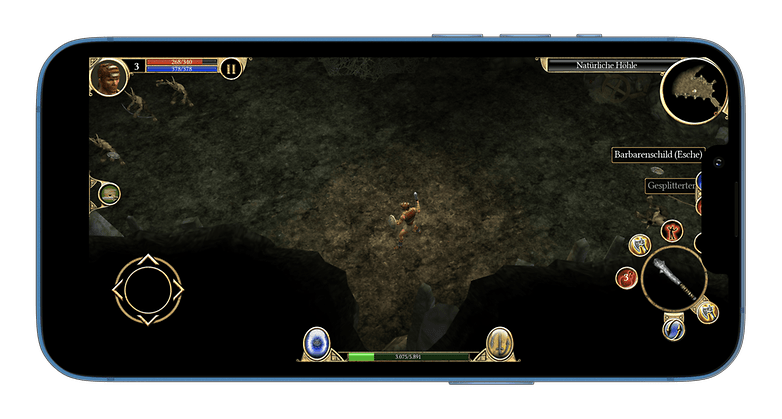 The goal of the game is to explore ancient Greece and save the world from the Titans who have broken out of Tartarus. As a warrior of the gods, you'll have to slay various beasts and put a stop to the demonic onslaught. Not only do you go around collecting countless equipment, but you can also strengthen your hero with the relatively simple but adequate skill system (which was avant-garde during the original game's era).
The controls are also quite simple and suitable even for beginners to the genre. Right now, you can get the standard version of the game for 99 cents, instead of the usual 9.99 Euros in the App Store of your choice.
Car Eats Car 5 – Battle Arena (Android & iOS)
Spending this weekend under brilliant sunshine, my colleague MaTT is dedicated to a battle arena racing game that stands out due to its cute 3D graphics and easy-to-understand gameplay. You take a seat in a sports car and set yourself to fulfill one task: destroy (eat) as many cars as possible.
The controls offer you a joystick on the left which you steer your racing car with, while the right has useful features like dynamite or a turbo. The latter allows you to easily outrun your opponents while the former dents their aspirations to escape.
Price: Free / Advertising: yes (between games) / In-app purchases: yes ($0.49 to $39.99) / Account : None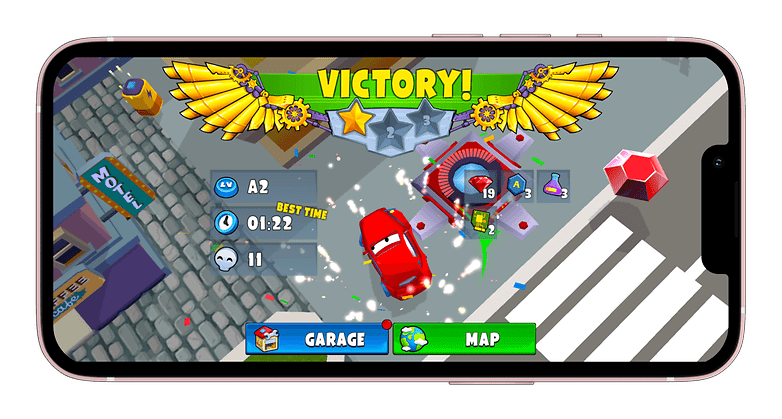 But the action doesn't stop at pure destruction: in the fifth episode of the "Car Eats Car" series, you also have a mission to embark upon. The objective? To save Beetlee's friends and the entire planet from a dangerous alien threat. To be prepared for boss battles, you can always go to your garage between races and see what upgrades are available for you and install them.
Car Eats Car 5 – Battle Arena offers a total of 10 different racing cars and an infinite number of lovingly designed 3D battle arenas, set in unique locations. Download the racing game for your Android or iOS smartphone for free today.
PictureInsect (Android & iOS)
If you ask yourself regularly, "What's crawling?" then PictureInsect provides the answer. You simply take a photo of an insect with the app and in a matter of seconds, it will let you know the name of that tiny critter. You'll also get details on whether the said insect is poisonous to humans or pets, or whether it will attack your clothes or food supplies in the foreseeable future.
Price: Free / Advertising: None / In-app purchases: Yes / Account: Not required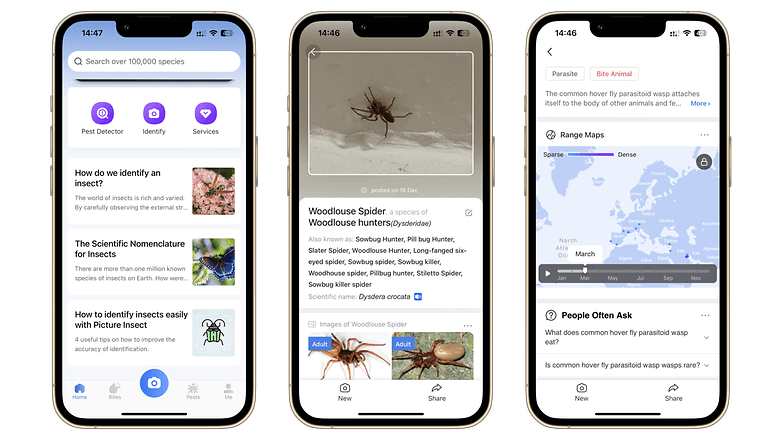 Even if it doesn't look like it at first glance, the app is completely free to use. You can simply decline the 7-day trial period the first time you launch the app, and then close the buy dialog by clicking "Cancel" in the upper right corner every time you boot it up.
This makes PictureInsect the WinRAR among insect detectors, or somewhere close. By the way, there is a somewhat similar app that is also available for plants and another for fungi, going under the monikers "PictureThis" and "PictureMushroom".
Which app did you like best? Do you have any other hot app recommendations for us? We look forward to your recommendations in the comments!