The HomePod mini is perhaps the Siri smart speaker that Apple should have done sooner, but it's certainly the one you should buy now, even with some limitations.
HomePod mini – design and size
Where the original HomePod was quite small, and unexpectedly heavy, the HomePod mini is the opposite. Its 3.3 inches in height make it only slightly half the HomePod's 6.8 inches, and the width is similarly less.
The original HomePod comes in at 5.6 inches wide, while the HomePod mini is 3.9 inches. Knowing those figures does not prepare you, though, for how much smaller the HomePod mini appears in real life.
It feels more like a tennis ball in your hand, and the almost spherical nature of the design helps with this. But then, so does the weight — HomePod mini is around a seventh of the weight of a HomePod at 0.76 pounds.
There's no mistaking it as anything other than a HomePod, though. HomePod mini comes with the same kind of acoustic mesh covering as its older, bigger sibling, and is similarly available in white and space grey.
Both models have a screen at the top, which provides some basic controls, plus status indicators. Where the HomePod's screen is slightly convex and looks like it sits atop the speaker, the HomePod mini's one is a little recessed into the speaker's mesh.
That will protect it from accidental touches as you move or carry the HomePod mini. So far in testing the HomePod mini screen does also seem to be more resistant to fingerprint smudges.
The HomePod mini offers the same five touch controls via the screen — tap to play, hold to activate Siri, and so on — as the regular HomePod. Just as with the regular HomePod, though, you are more likely to use the screen solely as a way of seeing if Siri is reacting to you.
That all works the same way on both models. To find another design difference between them, you have to look to almost the opposite end of the HomePod mini where the power cord is.
On the regular HomePod, the cable is a permanent fixture, and ends with a power adapter. The cord is also permanent on the HomePod mini, but it instead of terminating in a power adaptor, this cable ends with a USB-C plug.
For the majority of users this may not be a significant difference in the slightest. Apple includes a 20W power adapter with a USB-C socket in the box, so once you've plugged it into the wall, you can entirely forget about it.
However, for the first time with a HomePod, this does raise the possibility of portability.
HomePod mini — portability, and specifications
In theory, you can take a HomePod mini anywhere, and power it from a USB-C battery pack. In practice, you can take it some places, and you can power it from some such external batteries.
It makes for quite an ungainly portable speaker, with its long power cord permanently connected. However, what really limits its portability is that the HomePod mini needs a 20W power supply — even if it doesn't actually use it all the time — and also a strong WiFi signal.
Apple's supplied power adapter will of course work, but you can't plug HomePod mini into, say, a MacBook Pro's USB-C ports and expect to hear anything. Portable battery chargers have to have USB-C and to supply enough power.
There are plenty of such chargers, though, so it's going to be Wi-Fi that is more often what stops you using the HomePod mini as a portable smart speaker. The HomePod mini supports 802.11ac Wi-Fi with MIMO, as compared to 802.11n WiFi for the original HomePod.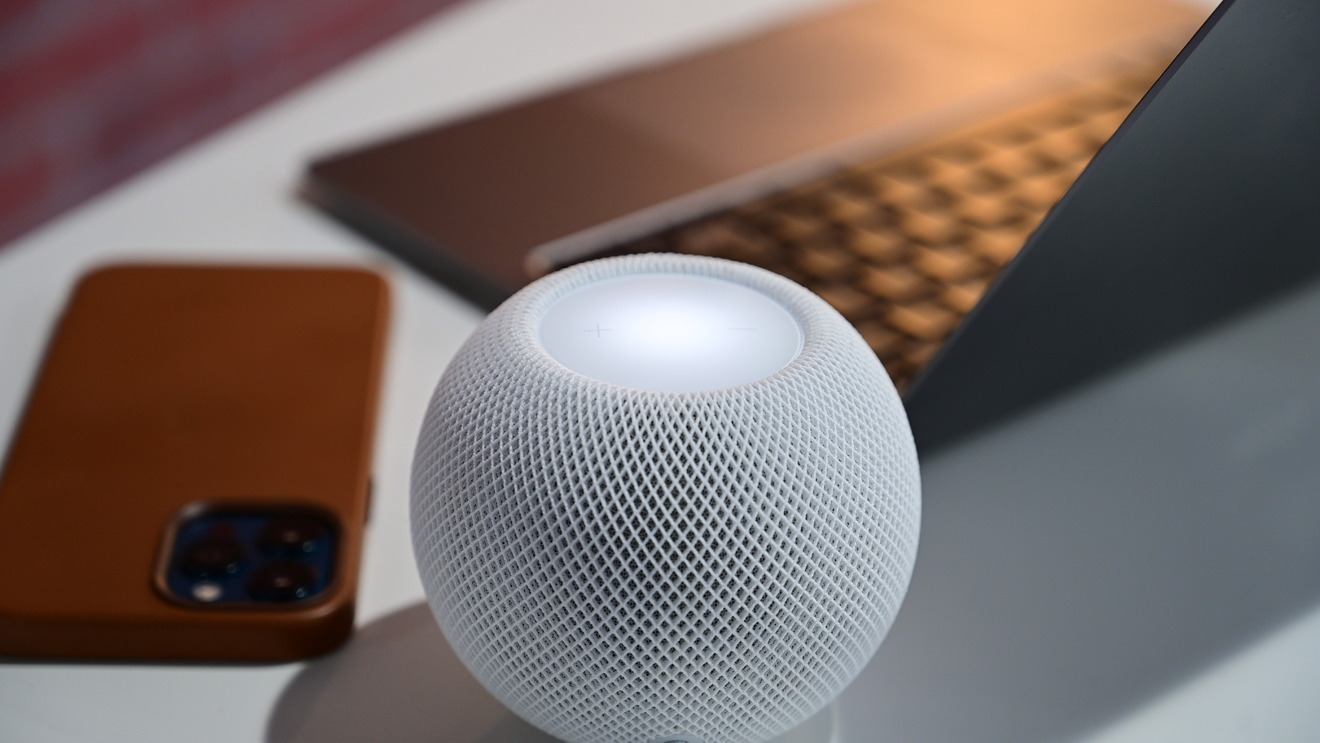 HomePod mini on our desk is great for music, podcasts, and phone calls
During setup, alongside such helpful messages as "Setup Failed (-71160)," Apple also warned that not all Wi-Fi networks are created equal. It cautioned us that one network we were connecting to did not support peer-to-peer connections, and that this will affect AirPlay.
HomePod mini relies on Wi-Fi to stream Apple Music — or other audio sources — but it also uses it heavily during the initial setup. If your Wi-Fi signal is weak where you want to place the HomePod mini, you may not even be able to complete the setup.
What you can do, though, is take the HomePod mini and set it up somewhere in your house or office where the network signal is stronger. Set it up there, then you can move it back to a weaker Wi-Fi area and it will work.
HomePod mini — sound quality
The sole point where Apple regularly beats other smart speakers has been when comparing the sound quality. And the HomePod mini is not as good as the HomePod.
Where the HomePod has what Apple describes as a high-excursion woofer with custom amplifier, the HomePod mini does not. It has a "full-range driver and dual passive radiators for deep bass and crisp high frequencies," instead.
The HomePod also has automatic bass correction via an internal low-frequency microphone that's used for calibration. The HomePod mini doesn't have that, nor does it have the regular HomePod's seven tweeters with separate custom amplifiers each.
Both models do utilize Apple's computational audio, which means both constantly monitor and adjust the music they're playing for maximum effect. Both can be used in a stereo pair for better overall sound, too, but you can't pair a HomePod with a HomePod mini.
HomePods don't just play audio, though, they also listen for users speaking to them. The original HomePod has six microphones for listening out for "Hey, Siri," but the HomePod mini only has four.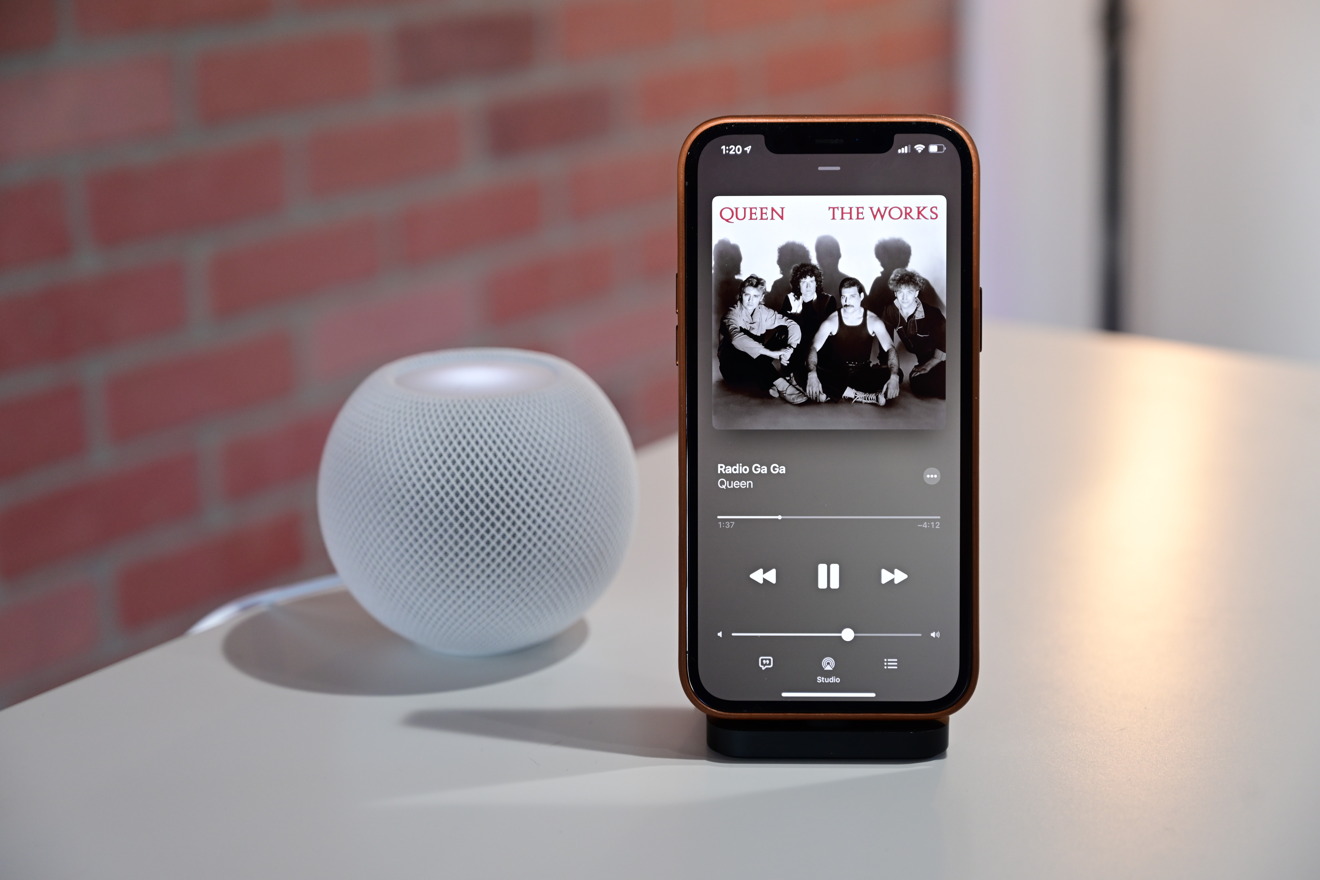 Playing music on HomePod mini
It's hard to truly compare "like for like" sound features, though, as the hardware in the original HomePod hasn't been updated since its launch in 2018. The software has, adding features such as multiple users, but the hardware still runs on an Apple A8 processor.
The HomePod mini uses Apple's S5 processor, which is newer, but then it also lacks certain features. Specifically, the HomePod mini cannot automatically recalibrate itself to match the acoustics of a room.
On specifications, then, the HomePod mini is in every way a cutdown HomePod. The new device can't match the old for features, it is physically incapable of matching the HomePod for audio quality.
Many of the disadvantages of the smaller size of the HomePod mini go away when you get two of them. In our trials, in a small office, a pair of full-size HomePods in a small room only required about 15% volume. We've gotten roughly equivalent sound from a pair of HomePod minis at 45%.
It's not a precise scale, though. For instance, with a single HomePod at 20%, a single HomePod mini needed to be at 35% to sound the same.
Even though you have to turn up the volume on a HomePod mini compared to a regular HomePod, though, it will still fill the room. That sound won't have as much bass as the original HomePod would, but you can have a single one in a room without it feeling confined to a corner.
That's most clearly the case when you're playing music. However, it's also loud and full-sounding enough for podcasts — and for the HomePod mini's range of white noise and ambient sounds.
In that larger living room example above, though, having a pair of them is more than the sum of their parts. The flatter bass and highs that you get with a single HomePod mini were gone, with no real distortion noticed until we were, literally, at maximum volume.
That said, where the original HomePod has a silicone base, the new HomePod mini has a hard plastic one. If you get a harmonic vibration from the furniture that you set the device on, consider cutting a rubber mat or neoprene pad into a pair of one-inch diameter circles to put between that hard plastic and the surface you're setting the HomePod mini on — you won't be sorry.
You'd be right to expect all of this because the device is $200 cheaper than the HomePod. However, you'd be wrong to presume that the differences are as noticeable as they appear from the spec list.
If you never move your HomePod between rooms, you won't have spotted how it recalibrates, for instance, and you won't have heard how different it can sound. And most significantly of all, what you read on the specifications list does not match what you hear when you play music over the HomePod mini.
This new device is a very, very good speaker. Maybe it's the combination of the price, and definitely the size, but even though we know it isn't as good as full HomePod, it sounds great to us.
For one quite ridiculous yet also deeply satisfying way to find how good it is, try out handoff.
HomePod mini — Handoff
If you're playing music on your iPhone, hold that next to the HomePod mini — or the original HomePod — and the smart speaker takes over. Instead of playing on your iPhone, the music is now playing on the HomePod mini.
It's not an instantaneous transfer, and it fact it seems to vary quite a lot. However, it is fast, and it is a delight.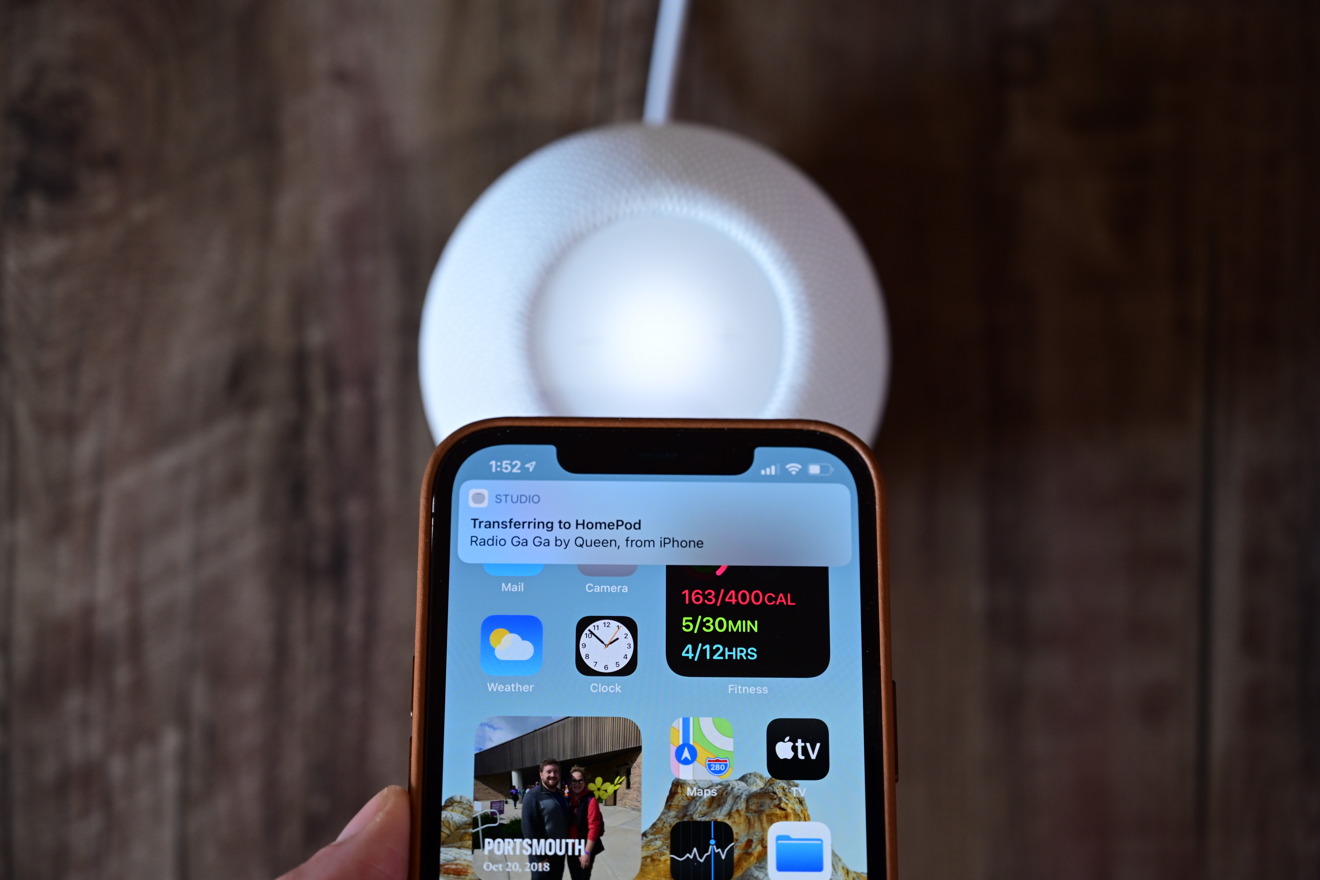 Apple will be upgrading the Handoff experience in a future update
If you can't properly compare a HomePod mini to a HomePod for audio quality, you obviously can't compare the new device to an iPhone. Yet the first time you use handoff, you feel the music going from perfectly fine on the phone, to filling the room with the HomePod mini.
Handoff works in reverse too. So you can pick up whatever you're listening to on the HomePod mini and walk out with it on your iPhone. Again, it isn't instant, and the speed does vary, but handoff is a treat.
Or it is so long as you position your iPhone just so. Now that we're used to it, it's as if we can't force it to fail. But it takes time to find the right position to hold your iPhone next to your HomePod mini.
Handoff has been on the original HomePod for a while, but the HomePod mini includes Apple's U1 Ultra Wideband processor — and it's going to use that for handoff. Apple says that, "later this year" HomePod mini will be updated with an improved handoff experience that feels almost as if your devices are "physically connected."
That leveraging of the U1 chip will make handoff more seamless. It will presumably track your equally U1-enabled iPhone with great precision, so it will be much more accurate when you try to use handoff.
HomePod mini — Setup
If it takes practice to get used to handoff, the main setup of your HomePod mini is extremely straightforward. However, we do quite specifically say it's easy for your HomePod mini, the one you got for yourself.
It isn't necessarily so for other people. If you give someone in your household a HomePod mini, you have to be prepared to have to set it up for them yourself.
That's because Apple's HomeKit insists on HomePod mini being setup by the "owner" of the house. That's the owner as in whoever bothered to set up the Home app first.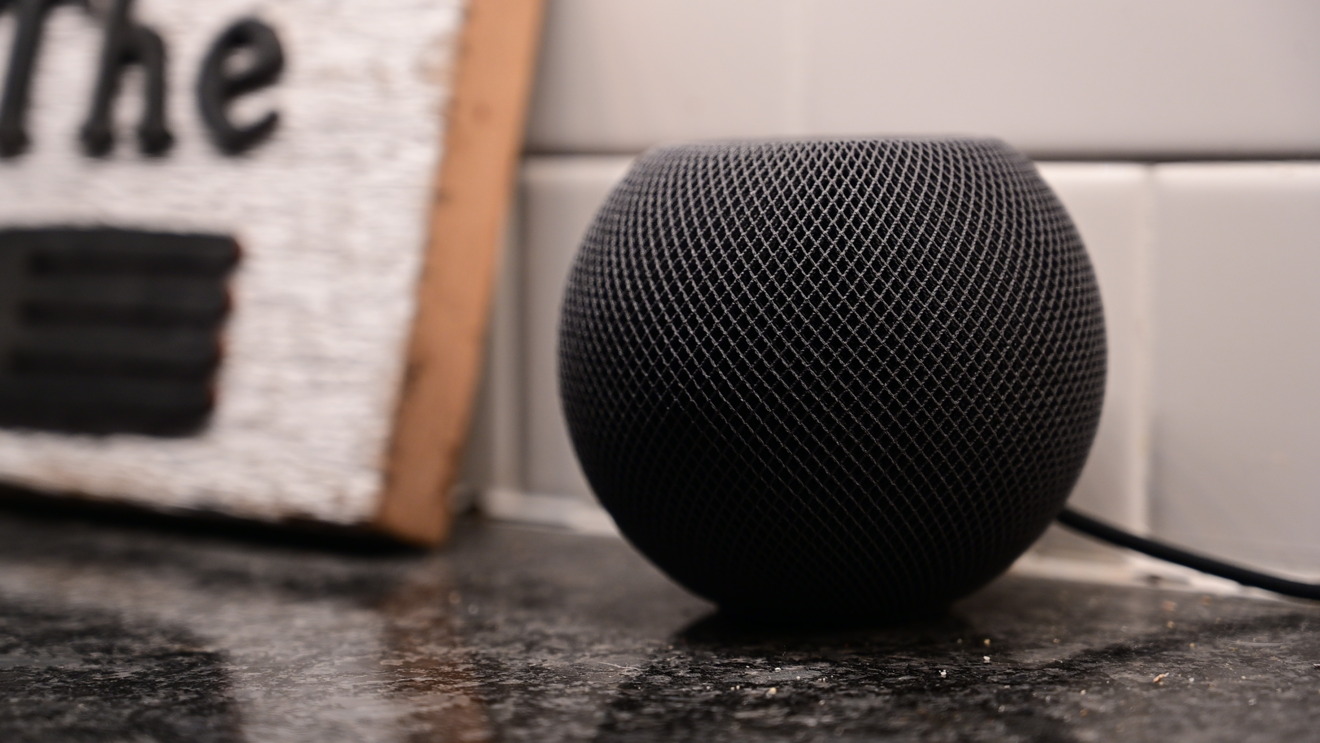 HomePod mini is great in the kitchen
They have to set it up, and so it is their HomePod mini, which responds to their voice, and has their favorite music on it. Once it's set up, the person you're giving it to has to then schlep through settings to get control.
Apple is probably right that there's usually one geek in the house who does all of this. But HomeKit needs to play nicer, easier with multiple people than it does now.
The HomePod mini could be what drives that, though. It is such a good present to give someone that the HomePod mini is doubtlessly going to mean Apple gets a better inroad into peoples' smart homes.
HomePod mini — HomeKit
Speaking of the home, HomePod mini can act as a full-featured Home Hub for Apple's HomeKit smart home platform. A Home Hub is an essential part of any HomeKit home that adds several important abilities.
When you add a Home Hub, you can access your accessories remotely, so even when you are away from your home. You can also use Adaptive Lighting, plus you have another connection point for Bluetooth accessories for when your phone isn't close enough, and you have full support for HomeKit Secure Video.
Along with HomeKit Secure Video, Home Hub enables zones and facial recognition on HomeKit cameras. Aside from HomePod mini, the original HomePod, select Apple TVs, and an always-on iPad can act as Home Hubs.
With the lower price tag and the likelihood that users will put multiple HomePod minis throughout their homes, it will make your HomeKit home more reliable as there will always be a Home Hub within reach of your accessories and another available should one go offline for whatever reason.
As we saw during setup, HomePod mini is set up and managed directly from the Home app with your other HomeKit accessories. You can adjust settings from here, change its assigned room in the home, and perform software updates.
HomePod mini is also huge from an accessibility point of view. Previously, vision-impaired users who sought a Home Hub, were forced to choose an Apple TV or a much more expensive full-size HomePod. HomePod mini is now the most affordable HomeKit Home Hub while offering additional value as a smart speaker.
What makes HomePod mini most exciting from a smart home point of view though, is support for Thread. Thread is a new smart home connectivity standard that creates a self-healing mesh network between all supported Thread devices. We laid out its myriad benefits in our standalone piece on the standard.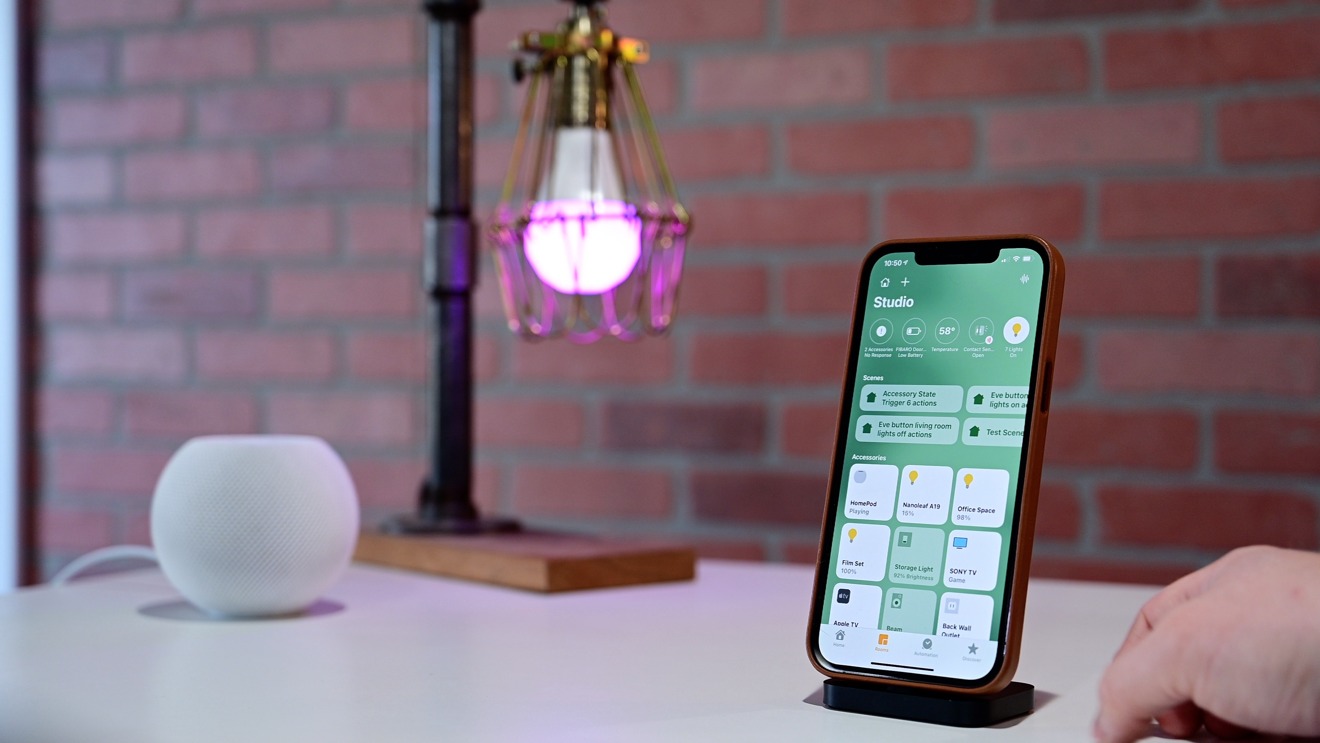 Controlling our Nanoleaf Essentials bulb with Thread
At the moment, the only Thread devices to launch are the Essentials line from Nanoleaf but Eve Systems as announced Thread is coming to parts of its lineup as well. Now that Apple is actively backing Thread by including it in the HomePod mini, it is all but guaranteed that other HomeKit accessory makers will support the standard as well, whether through firmware updates or new hardware.
For Thread, HomePod mini acts as a border router, bridging those smart home devices with your network.
We have the new Nanoleaf Essentials devices in our office and were able to test Thread functionality. When Thread isn't available — because you don't have a HomePod mini acting as a Thread "border router" — these Nanoleaf Essentials communicate via Bluetooth. Once the HomePod mini is added, they make the switch to Thread.
To test how Thread improved performance, we toggled the lights on and off repeatedly as well as changed the color. Then we set up our HomePod mini and gave it time to be discovered by our Home. There is no obvious designator that a device is actively using Thread, but we did see a notable difference in response times.
With the HomePod mini and Thread, our HomeKit smart lights responded much faster than they did over Bluetooth. Since they were perpetually connected over Thread, we also saw better reliability. Our lights were always online and reachable.
When you set up your HomePod mini, you may not have any Thread devices straight away. But as you expand your smart home and Thread support grows, it will only improve the HomeKit experience. We're sure Apple will be including Thread support in future home products such as updated full-size HomePods and Apple TVs.
HomePod mini — connectivity
Face it, you're going to use your HomePod mini to listen to Apple Music. It was built for that and it works very well with that.
Apple Music is far from your only option, though. At launch, HomePod mini also works with iTunes music purchases, iTunes Match, podcasts, plus radio stations via TuneIn, iHeartRadio and Radio.com. It also provides a news briefing from various sources depending on your country.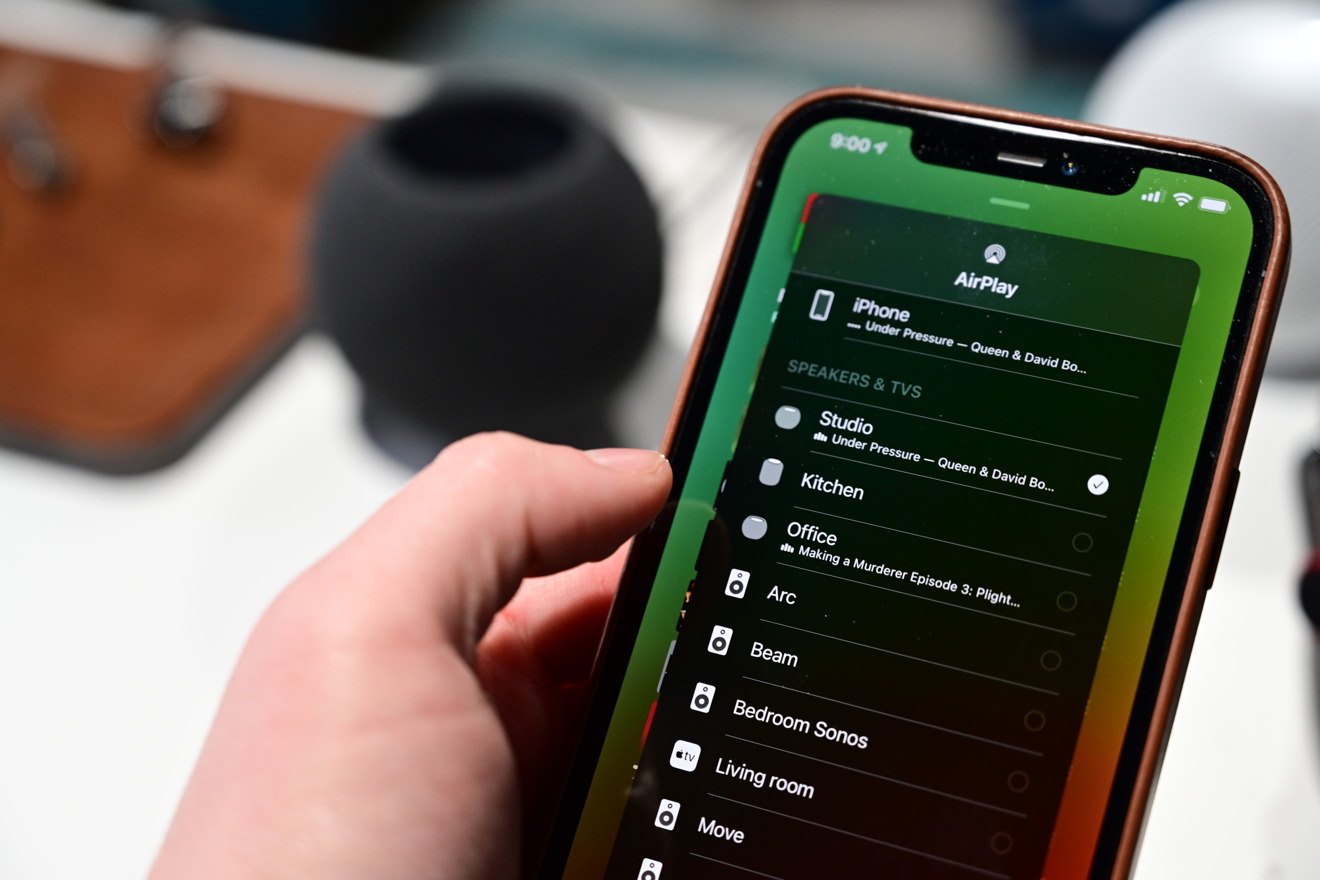 AirPlay 2 with HomePod mini
In "the coming months," according to Apple, HomePod mini will add support for Pandora and Amazon Music. Spotify remains noticeably absent from Apple's comments on the HomePod mini, but that may not be Apple's decision.
Even if HomePod mini never gets direct Spotify support, for any reason, you can already AirPlay the service from your iPhone to the device. It's already possible to AirPlay from any music source — or even the audio from any video source — to HomePod mini.
HomePod mini — what's missing and what's wrong
You can as easily criticize the HomePod mini as you can praise it. The difference is down to your expectations and prior experience.
If this had come out in 2018 instead of the original HomePod, it might have done better solely because of its price. At $100, it's still not a casual purchase, but it's much more of one than the HomePod's original $350 was.
Coming out now, in 2020, you can make the case that it's too late. Apple tried the smart speaker market with the HomePod, and the market said no.
The market did more than say no to Apple, though, it said yes to Amazon and to a lesser extent Google. Alexa is the Hoover or Biro of smart speakers and Apple will not change that.
So if you're an Alexa user, the odds are that you'd be more likely to buy another Echo than a HomePod mini. Alexa does have its frustrations, though, such as never shutting up when you've asked it one simple question and don't want the history of the East India Tea Company.
Alexa's success still surely locks out any other new entrant to the market, but Apple isn't new and it does come with the whole weight of the Apple ecosystem behind it. Even if you are an Alexa user, you are pretty likely to have an iPhone so you do already like Apple, and you are already familiar with Siri.
That could be how HomePod mini really expands Apple's reach, by just being tried out by enough Apple users. If they try it, they will still find Alexa more roundly useful than Siri, but they will prefer the HomePod mini's audio quality.
There is an argument that even at $99, Apple has priced this too high. There's also an argument that it's cut away too much of the regular HomePod's audio quality.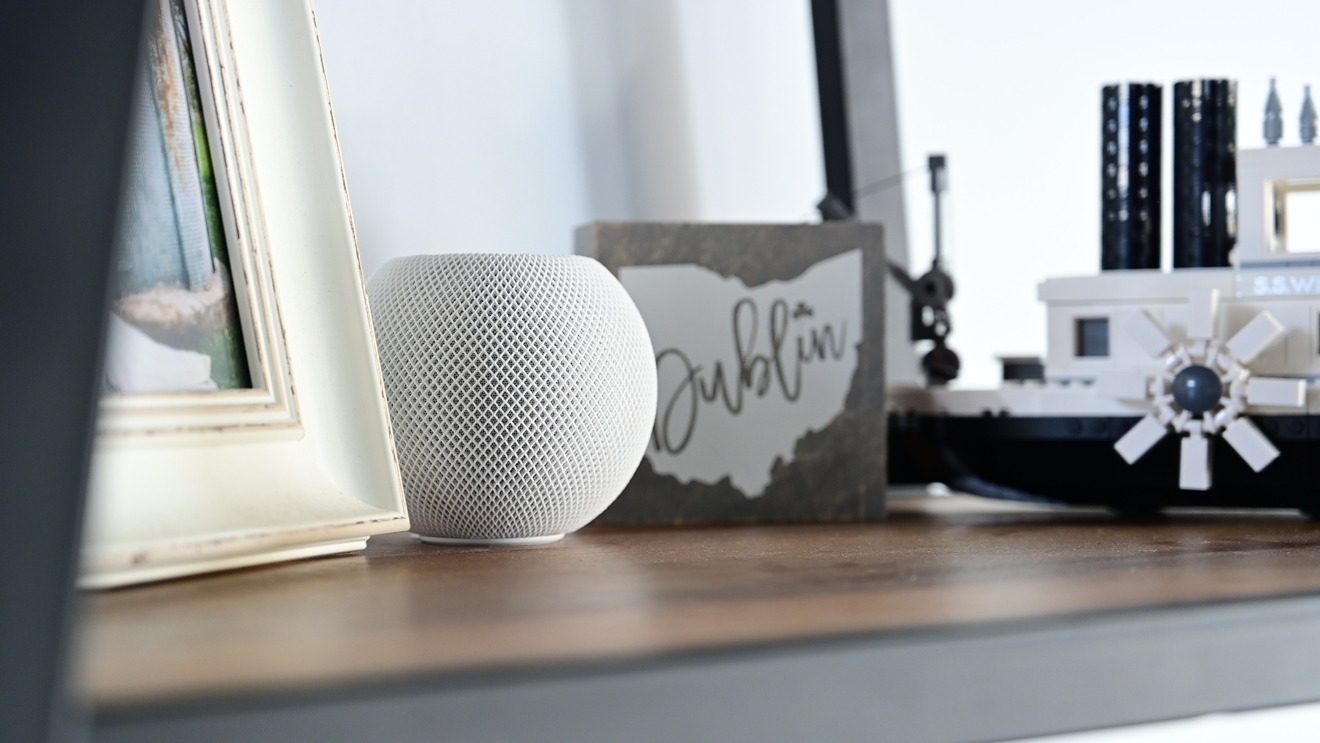 HomePod mini
Neither argument is wrong, but they don't help your buying decision. The fact is, the HomePod mini sounds far better than we expected, and at $99 it has reached a tipping point.
Apple must have hoped that the HomePod would be a massive success, that it would have become as ubiquitous as AirPods. If the HomePod mini lacks some of the audio quality that could have made that success happen, it's also gained something the HomePod never quite managed.
The HomePod mini is a tribble. You want one, far more than you wanted a HomePod, and when you've got that one, you want more.
Where to buy Apple's HomePod mini
Apple's HomePod mini is available to purchase from Apple resellers, with the latest deals and up-to-date pricing at your fingertips in the AppleInsider HomePod Price Guide.