HomeCourt is quite possibly the biggest thing to happen to basketball practice since the invention of the sneaker.
The app uses artificial intelligence (A.I.) and augmented reality (AR) to create and shape on-court basketball drills. It can tell whether you're shooting off the dribble, catching and shooting, or just practicing free throws. It will measure your release time and the angle of your shot. It knows how fast you're moving before you shoot. It calculates your vertical leap. And after your workout, you can see performance charts and a video breakdown right away. It's a metrics fan's dream.
HomeCourt offers real-time coaching as well. With the help of your iPhone or iPad's front-facing camera, you can get real-time feedback from coaches across town or on the other side of the globe.
As people shelter in place around the world, HomeCourt has made its services free to everyone through May 31. A recent feature update also lets coaches create a virtual team roster in the app, so players, coaches, and parents can participate in remote workouts, drills, and competitions. The company is also working on other ways it can support basketball players and coaches while school activities, practices, and tournaments are being cancelled or postponed.
Cofounder Philip Lam says the company's shot-tracking prototype kicked everything off. "Even though it could only track shots in a few specific situations," he says, "it made us believe it was possible to use a single smartphone camera to track complex basketball activities."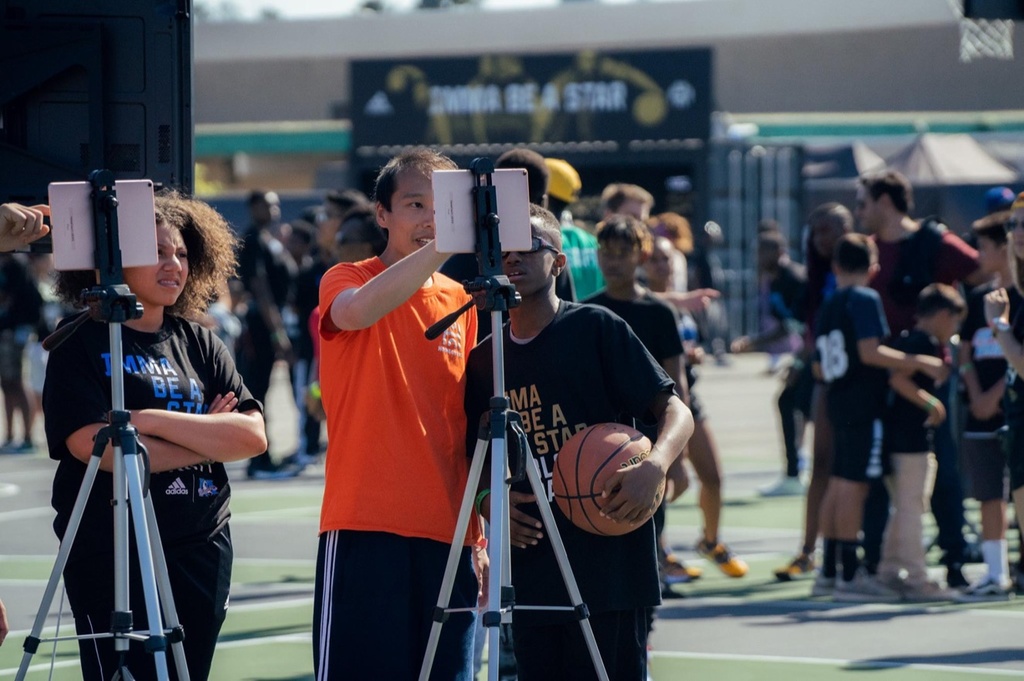 Today the company has 22 employees in Hong Kong and San Jose, California, and players across the globe.
Here Lam explains how HomeCourt got into the game:
"Before we launched, we played pickup basketball every week, and we started talking about how great it would be if we could get our stats — who hit the most shots, who got the most rebounds, all that stuff. And the idea just came up: Can we actually use the camera on the phone to do that for us? That's how it started.
We built HomeCourt on mobile to make it affordable to players around the world. We came up with the idea of simulating the Stephen Curry tennis-ball drill with an interactive AR experience. That turned out to be the foundation of HomeCourt's dribble workout. Everyone on the team was really excited to try it and compete with each other."
"Most other basketball training applications are content-based — no other mobile solution provides this system of proven training techniques combined with real-time A.I.-powered analysis.
In mid-2018, we built a prototype that could track advanced metrics, like release angle, release time, and vertical jump. We named this feature Shot Science. At that time, the iPhone X was the latest iOS device. It was powerful, but it still wasn't fast enough to run Shot Science in real time and enable players to hear audio shot analysis during a live practice.
The new iPhone series came in September 2018, and it was a much more powerful device for running machine-learning algorithms. We found our algorithm [ran] six times faster in the iPhone series with the A12 Bionic chip. With the optimization in our algorithm, we could finally offer Real-Time Shot Science. The opportunity to demonstrate that at the 2018 Apple iPhone event [was] definitely one of the most special days in our journey so far."
"We've had parents tell us that it becomes a competition with videogames: "Oh, they really do practice more, and they play fewer videogames, and I'm really happy about it!" And I'm really happy about it too!
And, yes, we still definitely play every week."
---
Originally published on the App Store.