Razer is known for making premium notebooks intended for gaming on the move, but which can also be used as a creative workstation. We compare Razer's Blade Stealth 13 against Apple's 2020 13-inch MacBook Pro to determine which is the better compact powerhouse.
Razer was the first of the two companies to come up with a new 13-inch notebook, with an updated Blade Stealth 13 announced in late April, roughly two weeks before Apple introduced the refreshed 13-inch MacBook Pro range. The update, itself a refresh of the upgrade made in early 2019, made changes to the GPU and processor selection.
There are a fair few similarities between the competing notebooks, such as promising high performance in a small and thin form, paired with a high-quality monitor and a long-lasting battery.
Of course, while Apple leans its promotion towards professional and creative usage, Razer goes for the gamer market, which makes sense considering its accessory heritage. Even so, the performance claims for gaming still makes the Razer notebook quite attractive to power users.
There are also a few bells and whistles that Razer throws in that Apple doesn't offer, such as RGB backlighting for the keyboard and a 4K touchscreen, but this comparison is more about the complete package.
Specifications
Razer Blade Stealth 13
13-inch MacBook Pro (2020), Two Thunderbolt Ports
13-inch MacBook Pro (2020), Four Thunderbolt Ports
Starting Price
$1,299.99
$1,299
Lowest 13″ MacBook Pro prices
$1,799
Best deals on 10th Gen models
Dimensions (inches)
0.60 x 11.99 x 8.27
0.61 x 11.97 x 8.36
0.61 x 11.97 x 8.36
Weight (pounds)
3.1, 3.26
3.1
3.1
Processor
10th-generation 1.3GHz quad-core Intel Core i7,
8th-generation 1.8GHz quad-core Intel Core i7
8th-generation 1.4GHz quad-core Intel Core i5
8th-generation 1.7GHz quad-core Intel Core i7
10th-generation 2.0GHz quad-core Intel Core i5
10th-generation 2.3GHz quad-core Intel Core i7
Graphics
Intel Iris Plus Graphics,
Nvidia GeForce MX150,
Nvidia GeForce GTX 1650,
Nvidia GeForce GTX 1650 Ti
Intel Iris Plus Graphics 645
Intel Iris Plus Graphics
RAM
16GB
8GB or 16GB
16GB or 32GB
Networking
Wi-Fi 6
Bluetooth 5.1
802.11ac Wi-Fi
Bluetooth 5.0
802.11ac Wi-Fi
Bluetooth 5.0
Storage
256GB or 512GB
512GB, 1TB or 2TB
512GB, 1TB, 2TB or 4TB
Display
13.3-inch 1920×1080 Matte, 120Hz option,
13.3-inch 3840×2160 touchscreen
13.3-inch 2560×1600 LCD with IPS
13.3-inch 2560×1600 LCD with IPS
Ports
Thunderbolt 3
USB-C 3.1 Gen 2
Two USB 3.1 Type-A ports
3.5mm headphone jack
Two Thunderbolt 3 ports
3.5mm headphone jack
Four Thunderbolt 3 ports
3.5mm headphone jack
Biometrics
Windows Hello
Touch ID
Touch ID
Touch Bar
No
Yes
Yes
Battery
53.1Wh, Up to 11 hours of usage
58.2Wh, Up to 10 hours of web browsing
58.0Wh, Up to 10 hours of web browsing
Razer Blade Stealth 13 vs 13-inch MacBook Pro – Displays
The most obvious starting point of comparison for the two product lines is the display. Both Apple and Razer equip their respective notebooks with a 13.3-inch screen, but that's where the similarities end.
Apple is continuing to use a 13.3-inch LED-backlit IPS display, one that offers a 2,560-by-1,600 resolution along with wide color P3 support, True Tone, and 500 nits of brightness. It is a well-tested and sufficient monitor for the vast majority of its users.
For the Blade Stealth 13, there are two monitors available as part of a configuration.
The lower-tier screen is a 13.3-inch panel, including a variant with a 120Hz refresh rate, declared the world's fastest 13.3-inch version and one that can help make text easier to read and produce crisp gameplay visuals. Using a 1,920-by-1,080 resolution, the screen is not as good as the one used in the MacBook Pro in terms of how much it can display at once, but it does have a matte coating for improved glare reduction and covers 100% of the sRGB space.
The higher-tier variant is the same size, but instead is a 4K panel offering a resolution of 3,840 by 2,160. With the same 100% sRGB coverage, the screen is also touch-enabled, giving an alternative to trackpad or mouse inputs.
For this generation, Razer has updated the design of the screens to have a very slim bezel measuring 4.9mm, regardless of the resolution. However, this measurement only really applies on the sides, as the top bezel is slightly thicker to house a webcam, and there's a large section of blank space below the display.
Despite the three different resolutions and four different panels in use, the physical dimensions of the screens are the same, as they all have a 16:9 aspect ratio to go along with identical diagonal measurements.
There is no clear winner on this front, as the MacBook Pro's display sits between the two Blade options in terms of resolution. Razer may win for its 4K touchscreen, but the full HD lower-resolution option on the cheaper end of the range is a little bit of a letdown.
Razer Blade Stealth 13 vs 13-inch MacBook Pro – Size and Weight
As is to be expected, there is very little in it when you compare the physicality of the notebooks. For a start, the 13-inch MacBook Pro is 0.61 inches thick, while the Blade is barely any thinner at 0.60 inches.
The general footprint is also quite similar, with Razer going for a marginally longer design at 11.99 inches versus 11.97 inches for Apple, and narrower at 8.27 inches to 8.36 inches. Given that we have to go down to hundredths-of-an-inch differences in length, width, and thickness, this is all quite negligible.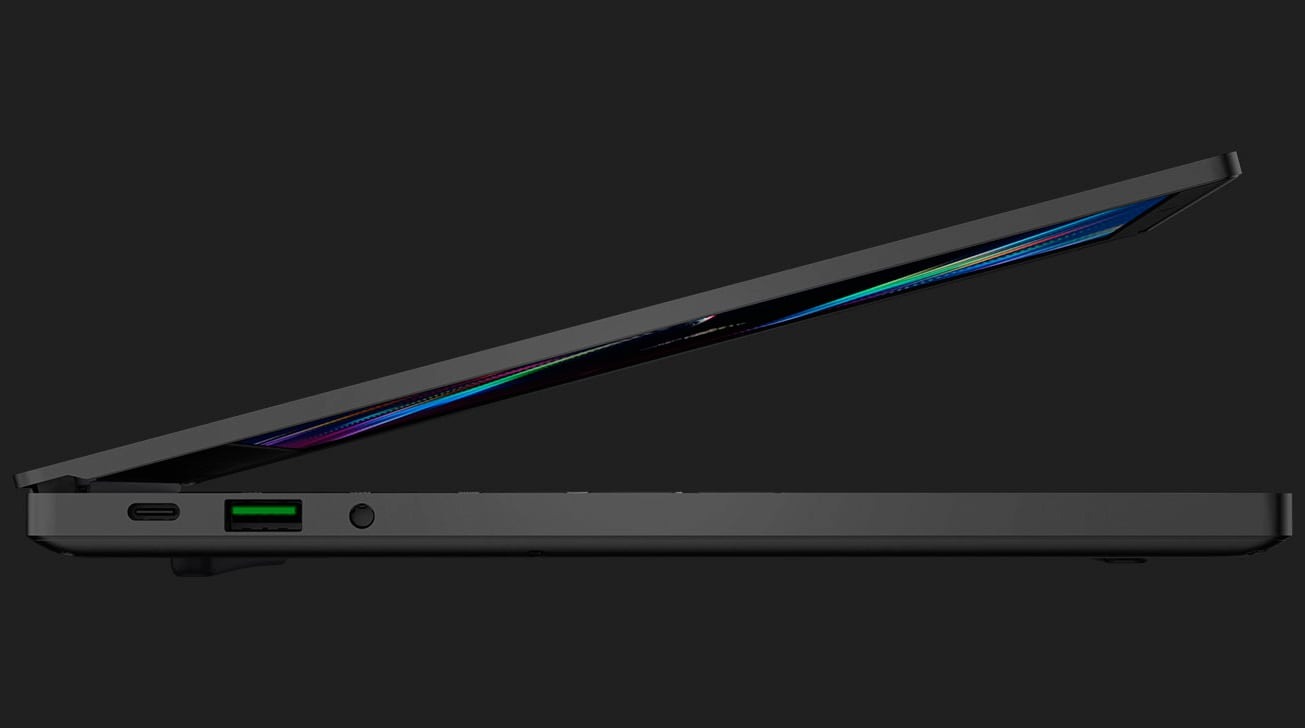 It is a familiar story for weight, as they are all 3.1 pounds apiece, at least for the Full HD version of the Blade Stealth 13. Anyone upgrading to the 4K touchscreen will see their notebook gain weight to a still-manageable 3.26 pounds.
However you cut it, there's barely any real-world difference in the physical properties. Sure, the 4K Razer is a tiny bit heavier, but otherwise it's very toe-to-toe.
Razer Blade Stealth 13 vs 13-inch MacBook Pro – Processors and Memory
When Apple launched its updated 13-inch MacBook Pro, the big story surrounding it was how it made upgrades to the processor lineup for its upper-tier configurations, while keeping its lower-tier models on older processor generations.
The upper-level versions use 10th-generation quad-core Intel Core i5-1038NG7 2.0Ghz and Core i7-1068NG7 2.3GHz processors, with respective Turbo Boost speeds of 3.8Ghz and 4.1GHz. On the lower end are the 8th-generation quad-core Intel Core i5-8257U 1.4Ghz and Core i7-8557U 1.7GHz processors, with boosted clock speeds of 3.9GHz and 4.5GHz.
Though the clock speeds may suggest the chips involved are somewhat comparable, the generational difference between the two sets also equates to a performance difference, both in processing and in power consumption. Generally speaking, the later-generation chips are going to offer better performance than equivalents for older generations.
The generational divide also extends to memory, with the 8th-generation paired with 2,133MHz LPDDR3 memory that starts at 8GB and can be upgraded to 16GB. The 10th-generation models instead have 16GB of 3,733MHz LPDDR4X memory, with possible configuration upgrades to 32GB.
Unusually, while Apple's rivals typically offer more variety in their processors and memory, Razer does not. The Blade Stealth 13 has the same tenth-generation Core i7-1065G7 processor, clocked at 1.3GHz with a 3.9GHz Turbo Boost, and 16 gigabytes of 3,733MHz LPDDR4X memory with no option to add more.
The exception is for one model that has an 8th-generation Intel Core i7-8565U, a quad-core chip with base and boosted clocks of 1.8GHz and 4.6GHz. Outside of one specific configuration, there is no option to acquire this older processor.
Razer's main processor choice sits somewhere between the two higher-tier MacBook Pro chips for its peak performance. Its main benefit is its 1.3GHz clock speed when unboosted, which can help reduce power consumption when performance isn't needed.
An additional benefit is thermal, as Apple's choices have a TDP of 28 watts. Normally, Razer's processor has a default TDP of 15 watts, but it went with the higher 25-watt configuration which allows for longer sustained boosted clock speeds.
Neither the processor nor RAM are replaceable in any of the notebooks in this comparison. In all cases, whatever the customer orders at the start is what they have to live with until they replace the notebook with a newer model.
Razer Blade Stealth 13 vs 13-inch MacBook Pro – Graphics
Depending on the processor used, the 13-inch MacBook Pro has either Intel Iris Plus Graphics 645, or on the higher-tier version, Intel Iris Plus Graphics. These are integrated graphics options, which do not use a separate discrete GPU.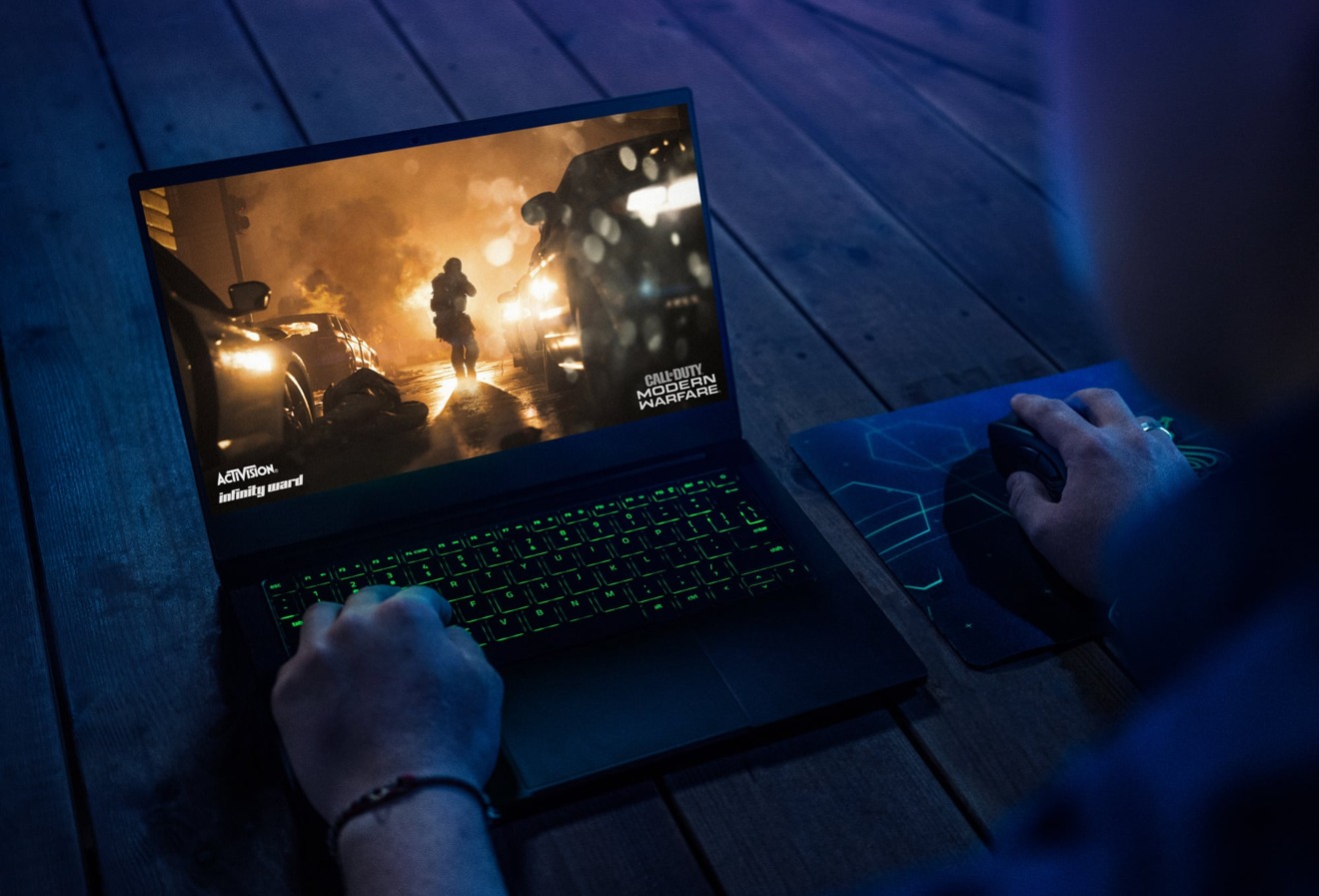 The Razer Blade Stealth 13 display is offered in Full HD and 4K touch-enabled varieties.
On the Razer side, the base configuration has the same Intel Iris Plus Graphics as Apple's 10th-generation variants. However, Razer also provides a selection of discrete graphics options, which stand to offer better performance.
The lowest discrete GPU selection is the Nvidia GeForce MX150, a holdover from the previous version, while at the top end are the GeForce GTX 1650 and the GeForce GTX 1650 Ti. That last option has 4GB of GDDR6 VRAM and Nvidia's Max-Q Design, and is equipped with 1,024 Nvidia Cuda Cores which can be employed in some applications like video editing and graphic design.
A search of PassMark's GPU benchmark results list indicates Intel Iris Plus Graphics GPUs have a G3D Mark score of 1,843 and G2D Mark score of 310. Nvidia's lowest discrete GPU option, the MX150, easily beats that on G3D mark with 2,370, but dips behind on G2D with 226 points.
On the GeForce GTX 1650, the mobile Max-Q Design version of the GPU performs considerably better at 5,951 and 295 for G3D and G2D respectively. Lastly and oddly, the Ti version offers scores of 5,336 and 253 on the benchmark list, slightly below but within the same ballpark of the non-Ti.
Even with the score oddity, it is fairly obvious that the discrete GPU versions of Razer's notebooks can do far better graphics-wise, and at least equate the MacBook Pro at the low end.
Razer Blade Stealth 13 vs 13-inch MacBook Pro – Connectivity
Wireless connectivity on the 13-inch MacBook Pro is robust, with 802.11ac Wi-Fi and Bluetooth 5.0 supported, but Razer edges it out with Bluetooth 5.1 and Wi-Fi 6, otherwise known as 802.11ax. At least on the wireless front, Razer takes the lead.
For ports, Apple has either two or four Thunderbolt 3 ports, depending on the tier of MacBook Pro, and the ubiquitous headphone jack. The Blade Stealth 13 instead has one Thunderbolt 3 port, one USB-C port, two traditional USB 3.1 Type-A ports, and again the headphone jack.
It seems likely that Razer considered its users to still need the older-style USB connections, partly to save from having to use dongles or adapters as with the MacBook Pro. Though this may seem to be helping users, it does mean the MacBook Pro offers connections with a higher data throughput collectively, as well as being somewhat more future-proofed.
Razer Blade Stealth 13 vs 13-inch MacBook Pro – Other Specifications
Storage options on the MacBook Pro are more wide-ranging at the time of configuration, with models starting with either 256GB, 512GB, or 1TB SSDs, and with upgrades to up to 2TB or 4TB available depending on the model. Razer provides 256GB for the integrated-only GPU and MX150, or 512GB on the GTX GPUs.
While Razer doesn't have the range of storage capacities that Apple offers, the Blade Stealth 13 is however able to be upgraded with replacement storage, via an M.2 slot. Aside from storage, there are no other after-sale upgrade options on any of the compared notebooks.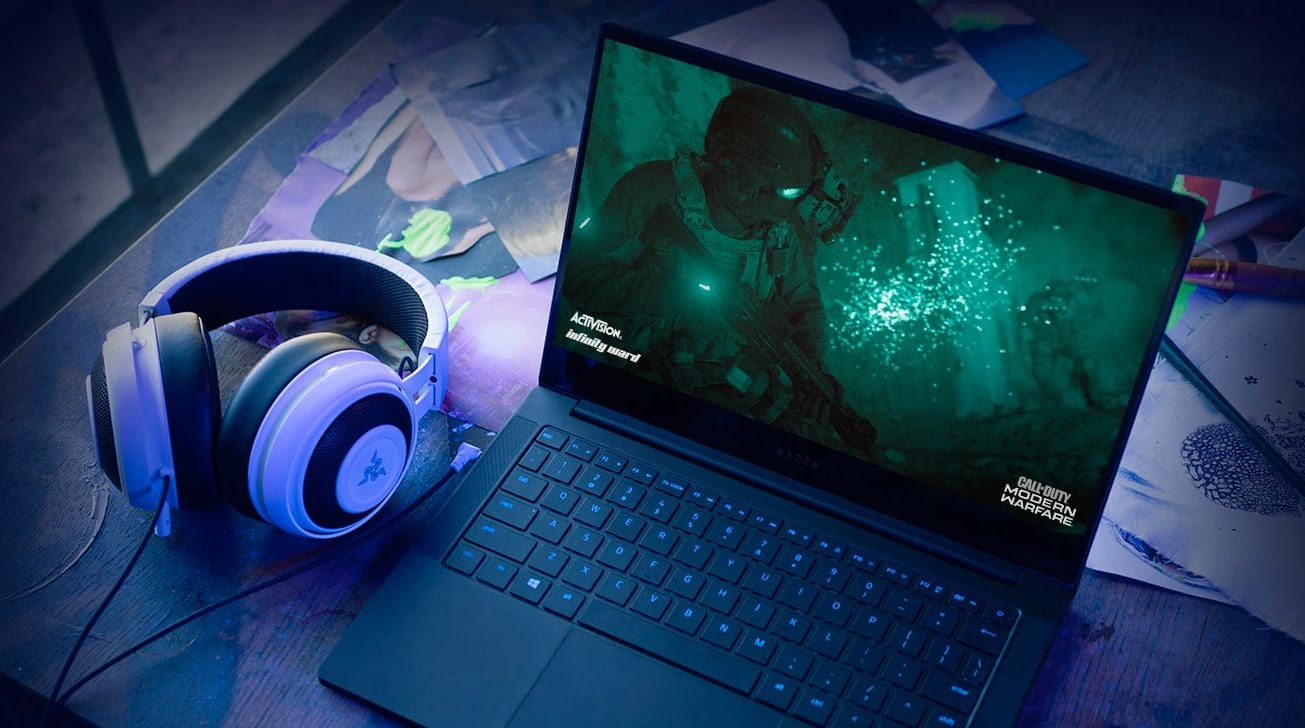 Both the 13-inch MacBook Pro and the Razer Blade Stealth 13 have backlit keyboards, but Razer opts to include customizable RGB lighting.
Apple includes the higher-capacity battery at 58.2-watt-hours against 53.1-watt-hours. The MacBook Pro offers up to 10 hours of battery life for web browsing, while Razer claims between 8 hours and 11 hours, depending on the model.
Razer has a better charging situation by including a 100-watt USB-C power adapter compared with Apple's 61-watt version, in part due to it being able to recharge its battery at a faster rate, as well as seeing less degradation of the recharging time when it is in active use. It would also be more useful as a USB-C charger for other hardware, as the 100 watts will let it support devices that can reach that level, unlike Apple's lower-wattage version.
The MacBook Pro benefits from Touch ID for biometric security, while the Blade Stealth 13 uses Windows Hello, though the webcam includes a built-in IR sensor to assist with the function. Both Apple and Razer use 720p webcams.
The Magic Keyboard on the MacBook Pro is backlit, but the Blade Stealth 13 goes further in offering full RGB backlighting to 16.8 million colors, which can be set to change in a variety of different patterns.
Apple includes stereo speakers with Dolby Atmos support in the 13-inch MacBook Pro, and a three-mic array with directional beamforming. Razer includes four upward-firing stereo speakers, a smart amplifier, Dolby Atmos support, and an array microphone.
Razer Blade Stealth 13 vs 13-inch MacBook Pro – Pricing
There are quite a few more options for customers to be concerned about if they were to acquire a MacBook Pro. Apple starts with four base model configurations, with each able to be upgraded with better components.
The lower-tier models start with the $1,299 option, with the 8th-generation Core i5, 256GB SSD, and 8GB of RAM, while $1,499 simply makes the storage 512GB in capacity. Upgrading to the 8th-generation Core i7 is $300 extra, while 16GB of RAM is $200.
The 10th-generation processor models start at $1,799 with the Core i5, 16GB of memory and a 512GB SSD, while $1,999 brings you up to 1 terabyte. Switching to the Core i7 processor is $200 more, and it's $400 to get to 32GB of memory.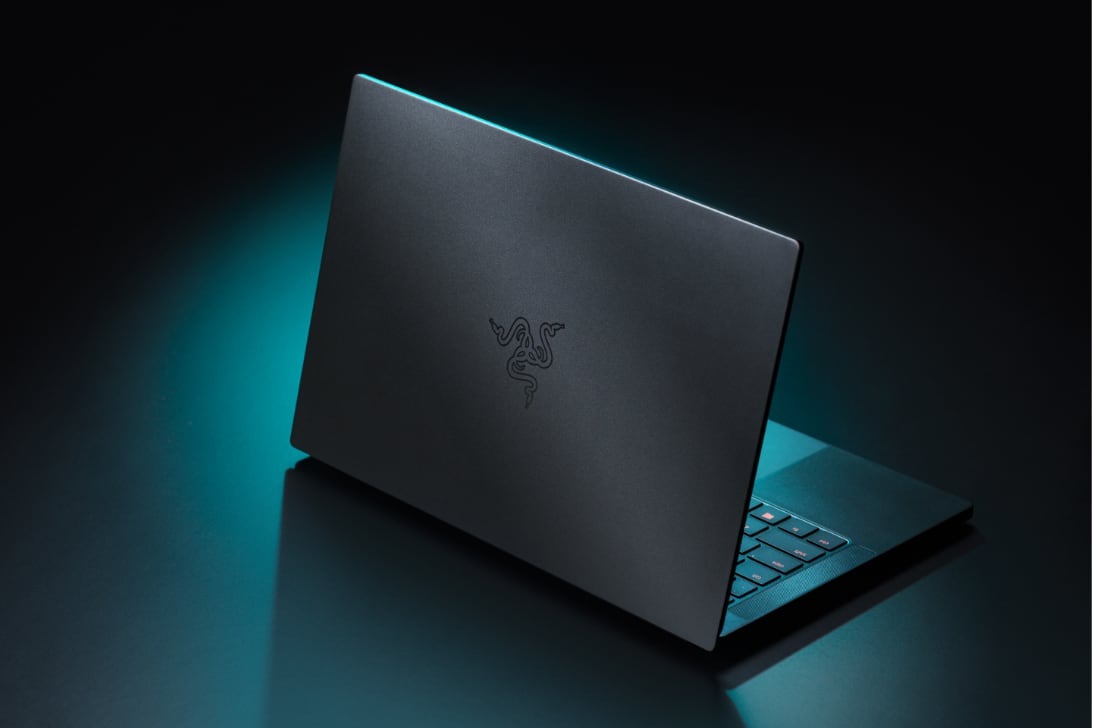 Razer offers a few color variations, including black, white, and 'Quartz Pink'
On the Razer side, the difference in model largely depends on the graphics card, and with very few permutations available.
The lowest model has integrated graphics, the Full HD screen, a 256GB SSD, and a Mercury White paint job for $1,299.99. Opting for the GeForce MX150 costs the same amount of money, but uses the older 8th-gen Core i7 and is finished in Quartz Pink.
At $1,399.99, the GeForce GTX 1650 model is in black and has a 512GB SSD along with a Full HD screen, though going for the 4K Touch version brings it up to $1,799.99.
Lastly, the GeForce GTX 1650 Ti model has 512GB of storage and either the Full HD 120Hz screen for $1,799.99, or the 4K Touch alternative for $1,999.99.
Considering that most of the Razer notebooks have discrete graphics, this does suggest that the Blade Stealth 13 range is quite competitively priced when put against the 13-inch MacBook Pro with similar memory and storage options.
Performance is Almost Everything
When Apple introduced the new 13-inch MacBook Pro models, the versions with the 10th-generation Intel processors provided the product line with a hefty upgrade in terms of performance. It is quite evident that just on the processor, the Blade Stealth 13 range can certainly hold its own against those upper models, at least with comparable amounts of RAM.
At least this is true in terms of raw processing power. By simply adding options for discrete graphics, Razer immediately adds more value to its lineup due to the potential additional performance it can bring to the table.
Apple does claw back some points for giving more options, as even the most hardcore gamer may find the 512GB SSD a bit limiting on the Blade. Even so, the Blade is at least able to be upgraded with more storage, so while Apple does offer more storage choice from the outset, you're stuck with it whereas you aren't with Razer's notebook.
There's also the extra small things the Blade has, such as the higher 4K display with touch capabilities, as well as the more colorful backlighting that may make it more visually appealing to a certain audience.
Of course, there's the dependency on having to use Windows if you go for the Blade, an operating system that could be run alongside macOS, a considerable benefit for the MacBook Pro that Razer just doesn't have.
Razer's Blade Stealth 13 certainly stands up against Apple's 13-inch MacBook Pro, but though there are some areas where it's found a little lacking, it sure makes up for it with the discrete graphics and comparable pricing.
Short of acquiring an external GPU enclosure, you're probably not going to see the same performance on the 13-inch MacBook Pro as the Blade Stealth 13 until Apple's next revision.