For Indonesians, more time at home during the COVID-19 pandemic means more time playing games and ordering in food deliveries, a recent study shows.
A study by American based mobile marketing analytics and attribution platform AppsFlyer showed that downloads of food and beverage (F&B) delivery applications rose 23 percent from January to early March in Indonesia. Meanwhile, transactions from said applications rose 17 percent over the same period.
Similarly, there has also been an 11 percent increase in in-app purchases on mobile gaming applications, although downloads have fallen 12 percent.
"Since beginning work from home on Monday, I have ordered in food at least six times as of today [Thursday]," said Adiyasa, a 24 year-old 3D artist whose office in Jakarta has implemented a voluntary work from home policy since Monday.
President Joko "Jokowi" Widodo on Sunday called for social distancing, urging people to "work from home, study from home and pray from home" to slow the rapidly spreading novel coronavirus. Social distancing is a public health tool to slow transmission of an infectious disease by encouraging people to maintain physical distance from one another.
Adiyasa said he typically only used F&B delivery services about four times a week for dinner or late night snacks, as he usually bought lunch at food kiosks or restaurants around his office. However, since beginning work from home, he has begun ordering lunch.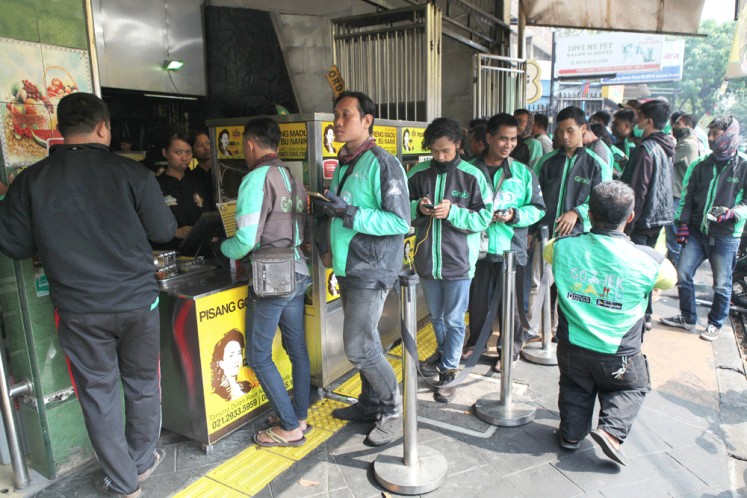 Wait for it: Ride-hailing app drivers queue up to buy food for their customers at the Pisang Goreng Madu Bu Nanik food outlet in Tanjung Duren, West Jakarta, in October 2019. (The Jakarta Post/Arief Suhardiman)
"I've also exceeded my monthly budget for mobile gaming purchases," he said, explaining he had spent Rp 143,000 (US$8.93) over the past week on in-game boosters. He said he normally only spent Rp 100,000 on mobile gaming each month.
"When I'm at the office, I don't pay much attention to games," he said. "But since I have more time at home, I've found myself playing mobile games more often."
The booster packs, he said, could speed up some features of the games, such as gaining experience points or gold in AFK Arena — an away from keyboard strategy idle mobile game.
Under normal circumstances, Adiyasa said he would wait until the end of the day to collect the points and gold, but as he now checked the game more frequently, he wanted to speed up the game to advance.
"The lesson we can learn from the global pandemic is that even if there's a hit to the economy, the consumer goods sector can bounce back quickly," said AppsFlyer Asia-Pacific managing director and president Ronen Mense in a written statement on Wednesday.
He went on to say that applications that saw a significant surge in new users or purchases should enhance their security, as estimated annual losses due to mobile app fraud totalled US$1 billion in the Asia Pacific region.
AppsFlyer collected data from India, Indonesia, Japan and South Korea throughout January when most of the COVID-19 cases were still confined to China and then again from February until March 2 when the coronavirus had spread to other parts of the world. 
Indonesia has seen an increase in coronavirus cases since early March, prompting companies to implement work from home policies and limit business trips, on top of the President's calls for social distancing.
As such, travel applications have seen a decrease in downloads and bookings as people cancel tickets and postpone travel. On average, bookings on travel apps have decreased 25 percent in the four countries.
"It is not surprising that travel applications have seen a decrease in transactions due to the COVID-19 spread," said Mense.
He also called for businesses to market their products responsibly by avoiding hard selling and advised them to participate in campaigns to raise awareness about the pneumonia-like disease without sparking fear.
Data from the three other countries also show similarities with Indonesia. South Korea, one of the countries most affected by the virus, has seen a 35 percent increase in mobile gaming purchases and a 12 percent increase in F&B deliveries. Bookings on travel apps have also fallen 52 percent.
Japan saw a 40 percent increase in F&B deliveries, while travel bookings fell 28 percent. Meanwhile India, which as of Wednesday had reported a total of 151 COVID-19 cases, saw a whopping 95 percent increase in F&B deliveries, with in-app mobile gaming purchases also up 14 percent.