Research Firm Ranks Low-Code Platforms for Business Developers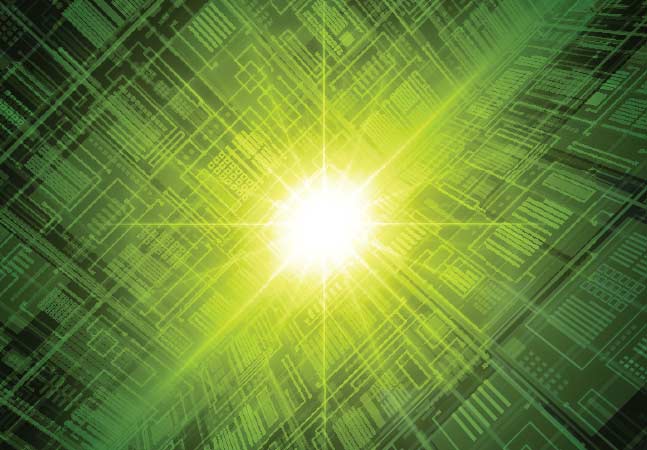 Forrester Research published a new report on low-code platforms for business developers, ranking 12 vendors on enterprise application development and delivery (AD&D) criteria.
Research firms have been closely following the no-code/low-code space that has grown significantly in recent years as a result of increasing demand for enterprise apps — including mobile apps in today's on-the-go business world — and a dearth of highly paid professional developers, who are increasingly hard to find and recruit.
The developer skills shortage has led many research firms and industry observers to anoint professional developers, especially mobile coders and data science pros, as "best job" holders.
Those factors have given new credence to the once-gimmicky no-code/low-code, do-it-yourself tooling space with offerings featuring drag-and-drop composability, template- and model-driven development, helpful wizards and so on.
They are typically aimed at "citizen developers" or "ordinary business users" who need to create enterprise apps quickly, often for specific, data-driven purposes.
Forrester highlighted that data-centric focus in its report, which, although offered for-pay, is freely available upon registration from several included vendors who have licensed the report for distribution.
"The leading platforms solve the puzzle of how to make database design simple while opening more powerful database tools as business developers learn," the report states. "Workflow and process designers remain the exception rather than the rule among these vendors. And features to organize and govern development processes are highly variable among the platforms."
Vendors examined in the report — some with cooperation and some without — include (in alphabetical order): Airtable, AppSheet, Betty Blocks, Caspio, FileMaker, Kintone, Kissflow, Quick Base, Scopeland Technology, TIBCO Software, TrackVia and Zudy.
Vendor inclusion criteria that each vendor exhibits, according to Forrester, include:
Development experiences designed for businesspeople.

Comprehensive tooling capable of delivering a variety of business use cases.

A free or low-cost license and a "pay as you grow" business model.

Its sights set primarily on large enterprises.



In its trademarked "Wave" approach, Forrester divides the 12 vendors it studied into Leaders, Strong Performers, Contenders and Challengers, with the Q2 2019 study breaking out the offerings thusly: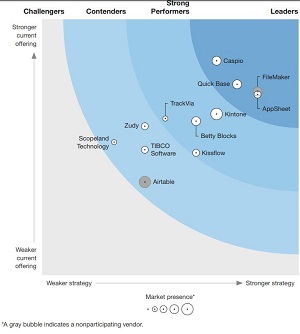 "After decades in the shadows, software built by businesspeople is emerging into the light," the report states. "A small group of AD&D leaders is supporting citizen developers on low-code platforms designed for their needs. Respect/fear have replaced love/hate. That's progress. Why now? Digital businesses' demand for ever more automation, ever more quickly, requires more minds and hands producing applications. AD&D support and governance are also crucial for allowing business developers to contribute meaningfully to their firms' software strategies."
The company said low-code platforms for business developers balance empowerment and governance by allowing:
Business experts to reliably develop full applications.

Business developers to self-serve on managed platforms.

AD&D pros to safely delegate software work to business pros.
Forrester said its report should be used as a starting point only for enterprises seeking to choose the correct tooling for their particular needs.